Master and manipulate the critical elements that build your brand and domain
Gather the gaze of your users' and create a hand crafted journey through your website designed to convert prospects and generate laeds.
We help identify and build the core elements responsible for getting users to become aware, engage, and repeatedly visit your website and help them make the right decision by pursuing your solution.
Keep your audience in mind through design. Let's learn more about your websites ability to nurture your bottom-of-funnel leads and get the converting.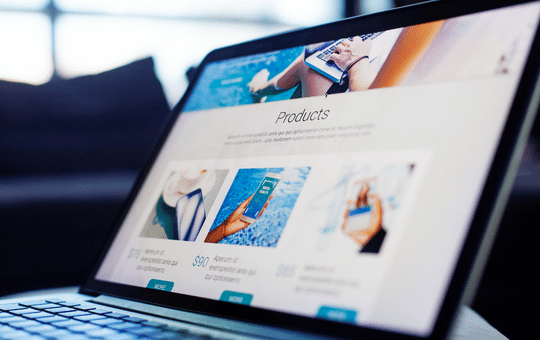 There is no average design, only good and bad.
The design of your website speaks to more than just it's ability to convert. From font, to balance, to texttural and colorful contrast. The sum of all these elements combined can generate trustworthiness and have you avoiding the typical spam look that plagues the internet today.
We'll work together with your brand to create a focused, and genuine design that speaks to your audience at the destination within the consumer value journey.
Make your value proposition shine with our formula for UI/UX success. With our team of creative experts at your disposal, you'll find your site functional and readily equipped to stand out amongst your competitors.

CEO & Co-Founder, ZS2 Technologies
"I don't think we would be here today if it wasn't for Hook + Ladder."
"Not just ideas, not just concepts and solutions, but the ability to execute on them, with excellent communication from the team. Having that confidence that our project is being looked after on a daily basis really gave me the confidence to continue working with them."

Managing Director, East Winds Resort
"They're genuinely experts in their field, but they have this very kind and nurturing approach"
"We don't have to employ a team of 5 or 6 people to cover all of those areas. We can turn to Hook + Ladder and ask for help"
Frequently asked questions
How do you approach testing and quality assurance to ensure that the website functions correctly and is error-free?
At Hook+Ladder, we approach testing and quality assurance with a focus on optimizing our clients' digital presence to drive business success.

Our team conducts thorough tests, including functionality testing (all the functions and features of the website to ensure they are working as intended) and performance testing (website's speed, responsiveness, and overall performance), to identify and fix any issues that could negatively impact user experience and search engine rankings.

We help our clients generate more traffic, leads, and conversions by delivering high quality websites that ultimately helping them achieve their business goals.
How do you ensure that the websites you develop are secure and protected against common vulnerabilities?
We ensure that the websites we develop are secure and protected against common vulnerabilities. Through conducting regular security audits and vulnerability scans, we look to detect any potential issues and take immediate action to address them.

We aim to provide our clients with a secure online presence and peace of mind through these measures. If you feel that website and database security is an integral part in agency relationships, we implore you to hop on a call with us to determine how Hook + Ladder can protect your brand's information.
What is your typical turnaround time for website design projects?
Turnaround time for website design projects varies depending on the project's scope and complexity. We understand that time is of the essence, and we work diligently to complete projects as quickly as possible without compromising quality.
If you're looking for a quick response, we recommend calling us to discuss your priorities, project details, and what aspects of a new website will have the highest impact on your business objectives. This will allow us to provide you with an accurate timeline estimate and ensure that we meet your expectations.
Do you offer any additional services, such as website maintenance or SEO, after the website is launched?
We offer a range of additional services to support our clients' online presence after a website launch, including website maintenance and SEO. Please find more information on SEO under our services section.
For website maintenance, we recommend contacting us to discuss your specific needs and requirements. We typically host a retainer that allows us to regularly update your website and ensure it's functionality and speed remains-up-to-date.
How do you ensure that the websites you design are responsive and mobile-friendly?
We dive into projects detailing user journeys and determine at what stage the mobile experience comes in. To ensure that our websites are fully optimized for all devices, we use industry-standard techniques such as media queries, flexible grid layouts, and fluid images.

We also conduct rigorous testing on various screen sizes and devices to ensure that the website design is fully responsive and user-friendly. Some of the common responsive tests we use include Google's Mobile-Friendly Test and BrowserStack.
Can't find the answer you're looking for? leave us a message and we will reply as soon as possible.