What We Did
---
Hook and Ladder created two campaigns that relied on a "call to engage". We gamified the basic awareness campaign and created a series of quiz based campaigns. The campaigns didn't offer any material incentive but it was clear by the amount of engagement that people were willing to play the "game".
Meal vs Meal Campaign
We pit menu items against one another in a head to head bracketed competition where users would vote for their favorite of two menu items. The winner of that round would move onto the semi-finals and the finals. The winner was announced on social channels and the amount of engagement was very positive.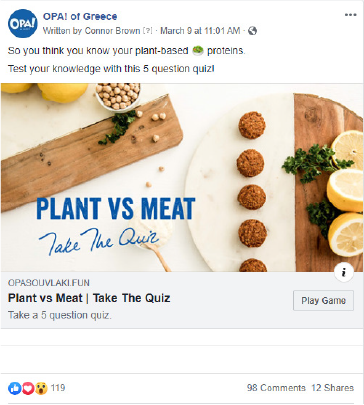 Plant vs Meat Quiz Campaign
This campaign was to support OPA!'s Feel Good Falafel menu feature. Once again we wanted to create awareness in an engaging and measurable way. We put together a 5 question quiz that was all about plant-based food trivia. This is a topic a lot of people are interested in which was made clear by the exceptional results we saw.
The Transformation
---

Through the strategic implementation of this off-premises advertising strategy, online ordering and third-party delivery sales rose substantially.
The Results
---
Meal vs Meal
Feel Good Falafel